Reusable Epson Ink Cartridges
by Izzy Goodman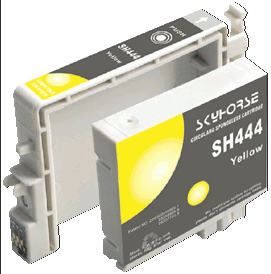 For printers using T069, T078, T079, T098, T125 and T126 cartridges.
This two-piece ink cartridge saves you money and time while reducing problems.
The biggest complaints about Epson ink cartridges are the cost, the small amount of ink they hold, the fact that Epson printers often report an empty ink cartridge when there is still ink remaining, and the problems which arise when the printer no longer recognizes the Epson ink cartridge. This clever design solves all of these.
A key factor in the cost is the chip which must be attached to all Epson ink cartridges. The Epson printer communicates with the chip and counts each page printed. However, some pages take more ink than others. The Epson printer doesn't really know how much ink is used so it estimates. Since it could damage your Epson printer to run without ink in an ink cartridge, it errs on the side of caution and reports an empty ink cartridge when there is often ink in it. When it decides there is no more ink, it sends a signal telling the chip the ink cartridge is empty. Once this happens, you have to buy another ink cartridge and waste money on another chip.
This two-part reusable Epson ink cartridge contains the chip on an outer shell. It is specially designed to automatically reset itself from an empty state. If the ink cartridge still contains ink, pop it back in. You can tell how much ink remains by looking at the back of the ink tank which is transparent (see the photo. We photographed a partially used ink tank so you can see the ink level.) To replenish the ink supply, pop out the inner refill ink cartridge, pop in a new full one and you're good to go. You pay just for the ink. There is no need to pay for another chip.
While Epson ink cartridges hold about 7 ml of ink, our reusable Epson cartridges hold about 15. And while regular Epson ink cartridges often report empty when there is still 10-15% of the ink left, reusable chips automatically reset, so you get full use of almost every last drop.
Additional bonus for those who own two or more Epson printers. The inner refills are the same for all printers which can use these tanks. This means that if you run out of T069 but have a T078, T079, T098, T125 or T126 refill, you can use it in place of the T069. You can even put a black ink tank in a color ink cartridge and it will work, but it will contaminate that color. If you are using the standard one-piece Epson ink cartridges, you can not substitute. If you run out of any color, you can't print until you replace that ink cartridge and it must be with an identical ink cartridge.
So that's the story. Inexpensive ink cartridges which hold more ink and use the same chip - easier on your wallet and your sanity, not to mention the environment.
o